HOUSE FINISHES / PRODUCTS
Our Standards are Upgraded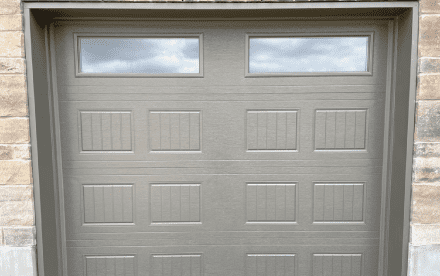 Garage Door
Your garage door can make a huge difference to your home's visual impact as well as to the functionality of the garage. 3-car, R16 insulated, durable, steel, sectional, garage doors and garage door openers with remotes come standard with our homes.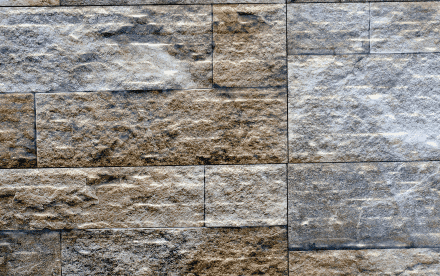 Stone
Stone siding and stone veneer siding are types of decorative and protective coverings for the exterior of the home. Our homes come with either stone, stone veneer, stucco, cement fiber or composite siding or cement fiber shakes on the front exterior (depending on model elevation). Stone exteriors provide curb appeal, increased home value, durability, low maintenance, energy efficiency as it's naturally insulating, and sustainability. Similarly, stone veneer exteriors are long lasting, provide curb appeal, are low maintenance, durable, sustainable and energy efficient. Stucco is a mixture of cement, sand, lime, and water, making it durable, waterproof, mold, mildew, moisture, rot and pressure resistant, aesthetically pleasing, energy efficient, fire and noise resistant, effective at insulation, versatile and low maintenance. Homeowners just need to ensure snow is cleared from walls and eavestroughs near the stucco.
Windows
Windows play a crucial role in maintaining an energy-efficient home and providing natural light into living spaces. We provide oversized, Low E-Argon PVC casement windows throughout the home as well as Low E-Argon PVC casement or sliders (depending on grading) basement windows. Low E (emissivity) window coating lets sun rays penetrate your home to bring in heat and light while limiting heat escape, which keeps you cool in the summer and warm in the winter.
Shingles
Roofing shingles provide a practical covering for your home with energy-efficiency, impact, wind, UV and weather protection, and fire, sound, and Algae resistance. We pick from a variety of limited lifetime self-sealing architectural asphalt shingles to make sure your home stays protected from the elements and so you and your family stay safe.
Front Door
Personalize and bring character to any house with your front door. We choose from many variations to make your entrance simply unique. Our entrances come with an insulated exterior metal door with weather-stripping and a front entrance grip-set with deadbolt.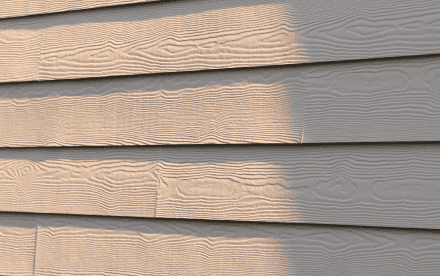 Siding
Traditional and timeless, sleek, and strong. Siding is one of the best ways to cover the exterior of your home. We use Cement Fiber Board or Composite siding and trim on the front (depending on model elevation), sides and back of our homes. Cement Fiber Board is extremely durable, long lasting, low maintenance, fire, and heat resistant (non-combustible), weather, storm, thermal, moisture, expansion, and contraction resistant, water and rot proof, insect, and animal repellent, sustainable, energy efficient, has outstanding curb appeal and provides a high return on investment. Similarly, composite siding is energy efficient durable and esthetically pleasing.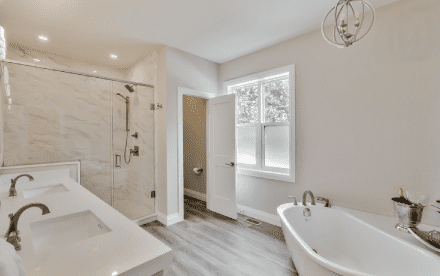 Plumbing
Essential to bathrooms, kitchens, laundry rooms, and entire homes, plumbing an HVAC must be a priority to make your home fully functional. That's why we provide a programmable smart thermostat, HRV for highest air quality, 95% high efficiency forced air propane heating system, air conditioning, private lined well, class 4 septic system, on demand, wall hung, propane fired hot water heater, PEX water lines, shut-off valves under all sinks and hose bibs, cabinets and sink in laundry room (per plan), rough-in for 3-piece basement bath including pumping tank rough in, sump tank and pump, Radon Gas mitigation per Building Code: sealed polyethylene under basement slab and rough-In for vent and fan, double stainless steel under mount kitchen sink with stainless steel pull down faucet, stainless steel fixtures for all bathroom sinks, tubs, and showers, comfort height eco toilets and an exhaust fan in all bathrooms.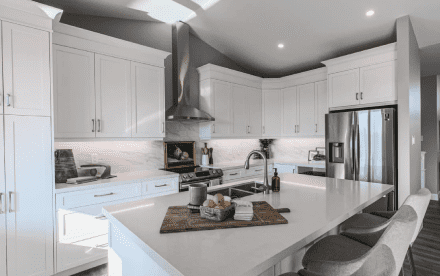 Kitchen Cabinets
A kitchen is the center point of life and activity in any household. That's why we provide custom cabinetry with taller 36" upper cabinets with valance and crown moulding, to match ever increasing storage needs. Our maple cabinets are lovely to look at and durable to stand up to daily use. Our shaker cabinet doors are smooth, slow close, easy to clean and have a simple, timeless design.
Paint
Paint adds depth and character to a room. We customize our homes through wall, ceiling, door and trim colour paint finishes. We use Benjamin Moore paint for its superior reputation, durability, splatter resistance, speed of drying, coverage, and low VOCs.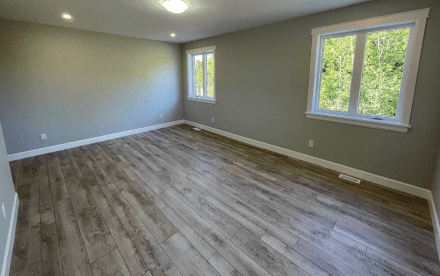 Flooring
Floors make up the main look of your house so they must be extremely durable to withstand the tasks of daily life as well as be easy on the eyes. We use luxury vinyl flooring because it's highly durable with a built-in scratch and stain guard, waterproof making it ideal for areas like kitchens and bathrooms, authentic and versatile in appearance giving a realistic representation of either wood flooring or ceramic, practical and extremely low maintenance.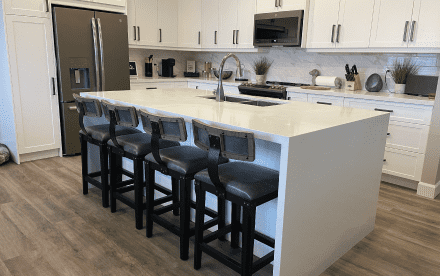 Countertops
Countertops of any room must be functional focal centre points. We use quartz countertops as they provide a luxurious look, have a wider range of colours, are durable and won't chip or crack easily, are non-porous so they resist staining better than natural stone, and will not harbor bacteria or viruses, are easier to maintain, longer-lasting, more environmentally friendly, and easier to customize.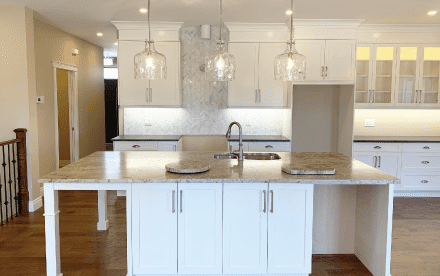 Mouldings / Trim
Mouldings are the final touches that enhance any room. Our custom cabinetry comes with valance and crown moulding (decorative finishing element used for capping cabinets, columns and interior walls at the point where the wall meets the ceiling), large sized and custom colour trim (baseboard, window and door casings).
Door Handles
Functionality meets style through our many variations of door handles. We provide high-quality interior door hardware, including privacy sets for bathrooms and bedrooms for your safety and ease of use.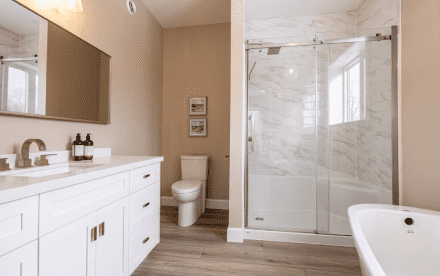 Bathroom Vanities
The bathroom vanity sees a lot of action. That's why we build ours to be practical, elegant, and sized for comfort. Our custom, locally made bathroom vanities offer numerous drawers, ample counter space and a gorgeous finish, making your morning routine efficient and pleasurable.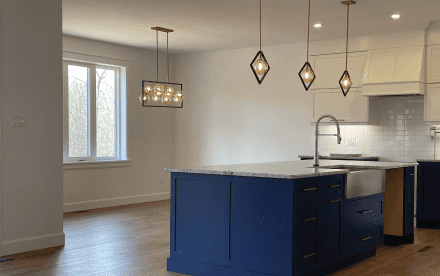 Lighting
Lighting creates the atmosphere and mood of a room. With customized ceiling light fixtures and/or LED pot lights included in all areas including dining, under cabinet valance lighting (LED), Decora light switches and plugs and exterior LED pot lights, you'll get to enjoy the beauty of your home during both day and night.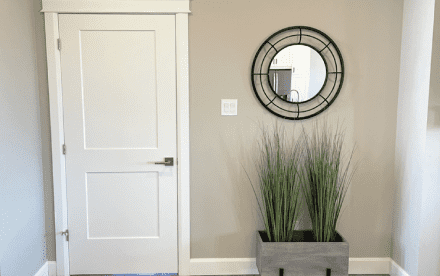 Interior Doors
The average house has 14 interior doors. Each of our interior doors reflects the home's taste and style. We provide swing closet doors throughout, and large sized trim door casings for an aesthetically pleasing and finished look.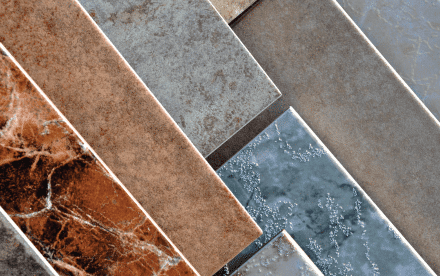 Tiles
Tile is used in many ways in a home build. We provide tiled kitchen backsplash, acrylic shower base with built in seat or fully tiled shower floor in the ensuite bathroom, and a tiled shower surround. We do this because tile is hypoallergenic and the right choice for those who suffer from allergies, it's durable/impact resistant, green, as ceramic and porcelain tile do not emit VOCs (Volatile organic compounds), low maintenance as it's easy to clean, and doesn't require repetitive sealing, and last but not least, it's stylish.
CONDITIONS
• All plans, elevations and specifications are subject to modification from time to time by the vendor according to the Ontario Building Code, National Building Code and Architect.
• The vendor will not allow the purchaser to do any work and/or supply any material to finish the dwelling before the closure date.
• Variations from vendor's samples may occur in finishing materials, kitchen and vanity cabinets, floor and wall finishes due to normal production process.
• The Vendor shall be entitled to reverse the plan of the house being constructed.
• The Vendor is not responsible for shade differences occurring from different dye lots on all materials such as ceramic tile or broadloom, roof shingles, hardwood flooring, wood stairs, railing, kitchen cabinets, countertops or brick. Colours and materials will be as close as possible to Vendor's samples but not necessarily identical. Purchaser(s) may be required to reselect colours and/or materials from the Vendor's samples as a result of unavailability or discontinuation.
We're known for our attention to detail.
Our stunning finishes include many features that other builders charge as upgrades, such as high caliber stone and Cement Fibre Board exterior siding, quartz countertops, luxury vinyl flooring and basement in-floor heating. We also promote sustainability by exclusively building with energy efficient ICF (insulated concrete form). ICF foundations are highly resilient, and energy and resource efficient, so you save on utility costs and have a greener home that lasts a lifetime. That's the BLD Homes way. That's the BLD Homes way. That's Living, Upgraded.
We're proud of what we've accomplished
Our milestones inspire and lead us forward.
We're very proud of the communities and reputation we've built thus far and we're incredibly excited for the future projects that we have coming soon. Thanks to our wonderful clients, we get to continue to do what we love, which is build unique, sustainable and high quality homes.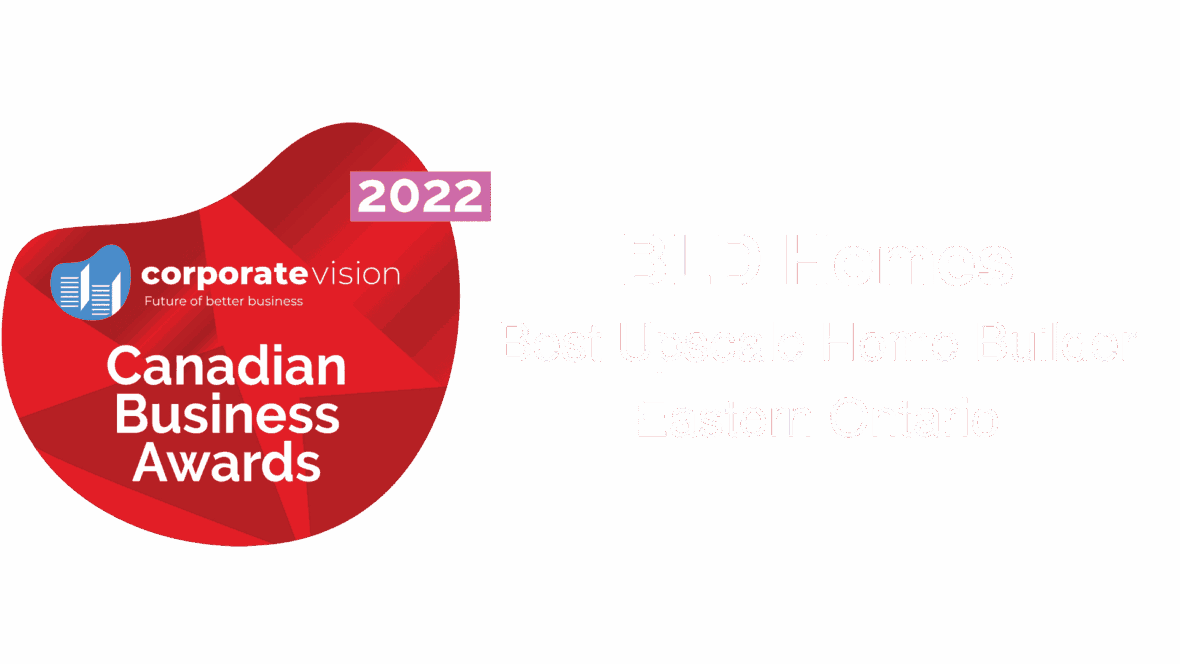 Looking for more information about one of our communities? Contact Us.
Questions?  Feel free to ask us below.
Looking for Tenant Information? 
Check out our FAQ